Welcome to TANZANIA
* * * THE BEST OF * * *
Mount Kilimanjaro, The Great Serengeti Plains,
Ngorongoro Crater, Lake Manyara,
Olduvai Gorge, Zanzibar Beach
More about Tanzania can be found on the links below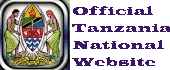 IPP MEDIA ||Tanzania Tourist Board|| Bank of Tanzania
Area: 945,087 sq. km

Population: 28.8 million

Capital: Dodoma (official)

Dar es salaam (seat of government)

Head of State: President Benjamin

William Mkapa

Official Languages: Swahili, English

Currency: Tanzania shillings

Exchange Rate: TSh 895 = US $1

Time:GMT +3
Tanzania big map, Northern Tourist Circuit map,
Tanzania: Tourism Attractions
NORTHERN TOURIST CIRCUIT NATIONAL PARKS.
Arusha National Park: 137 square-mile park, 20 miles east of Arusha. Features leopards, colobus monkeys, giraffe, rhino, hippo, elephant and a wide variety of antelope. Also in the park is Mount Meru, a volcanic mountain 14,979 feet high, covered by a dense rain forest, and popular for mountain climbing excursions as well as Ngurdoto Crater and Momela Lakes where animals and birds come to water.
Kilimanjaro National Park: 30 miles from Moshi. Encompasses 756 square miles and includes the permanently snow-capped Kibo peak [5,895 meters] and the Mawenzi peak [5,149 meters] of Mt. Kilimanjaro, Africa's highest mountain. Features blue and colobus monkey.
Lake Manyara National Park: 325 square mile park, 75 miles southwest of Arusha. Features a type of lion which climbs trees, elephant, buffalo, giraffe, leopard, baboons, vervet and blue monkeys, impala and rhino. Birds [over 350 species] include flamingo, stork and egret.
Ngorongoro Conservation Area: 112 miles west of Arusha. the Ngorongoro floor, 100 square miles in area, lies 2,00 feet below the rim of the Ngorongoro Crater and contains herds of Zebra and antelope, buffalo, elephant, lion, rhino and hippo. Nearby is Olduvai Gorge with 300-foot deep canyon [excavation site where Dr. Leakey discovered fossils of earliest human and animal ancestors who lived almost 2 million years ago.
Serengeti National Park: 5,000 square miles just east of Lake Victoria and 205 miles west of Arusha. Encompasses the largest migratory concentration of plains game in the world with over 1.5 million animals of 35 species including lion, cheetah, and leopard. In May-June and November -December there are migrations of zebra and gnu [wildebeest] over the plains in search of water.
GENERAL INFORMATION
Tanzania is located on the East Coast of Africa south of the Equator. It joins Kenya and Uganda in the north, Zaire, Rwanda and Burundi in the west and Zambia, Malawi and Mozambique in the south.
The country embraces the Islands of Zanzibar, Mafia and Pemba Its mainland has a coastline of approximately 500 miles [804 kms] of lovely palm-fringed beaches virtually undeveloped. Extremes of topographical relief of the continent of Africa also lie within its 362,820 sq. miles [939,704 sq. kms]. Mount Kilimanjaro with a permanent ice-cap 19,340 feet [6,340m] above sea-level and the highest mountain in Africa, and deep trought-like depression within the Great Rift Valley of East Africa is Lake Tanganyika, the world's second deepest lake.
CLIMATE: Tanzania lies in the tropics but the temperature depends more on the altitude than season. Dar es Salaam and the coastal regions are hot but pleasant with temperatures varying from 22-330C [72-85oF] The evenings are mostly cool, especially from May to October when the climate is superb. Intermittent rains are experienced from December to May. In the northern areas of Tanzania, temperatures vary from 18.8-210C [63-700F] in March, dropping to 15.50C [600F] in June.
The long rains occur from March to May and there are short rains between November and December. The central plateau is hot, dry and always cool at night. Pemba and Zanzibar are hot and humid.
ECONOMIC GEOGRAPHY: The major part of the wealth of the country comes from its agricultural products. The chief exports are coffee, cotton, sisal, tobacco, tea, pyrethrum, cashewnuts, groundnuts and many more crops. Light industries are increasing rapidly, particularly for manufacture from raw materials. There is a carefully planned development of the tourist industry. An area in excess of 70,000 sq. miles [182,000 sq. kms] of land is permanently dedicated to the preservation of wildlife. Zanzibar is the world's largest producer of cloves.
ELECTRICITY: 230 volts AC. Some hotels have sockets to serve shavers at 110/117 volts.
TAP WATER: It is advisable to drink boiled water or mineral water unless there are notices specifically stating that the water is safe to drink.
MOST FAVOURABLE SEASONS FOR TOURING: As Tanzania lies south of the Equator, cold and warm seasons are the exact reverse of summer and winter in Europe and North America. The best seasons for visiting the game areas: November-March and June-September.